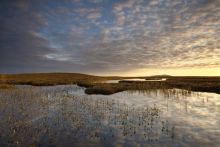 New research from leading Scottish environment charities shows that backing their plan for nature's recovery could create up to 7,000 new jobs, contributing to Scotland's economic recovery from Covid-19.
The Scottish Parliament is currently scrutinising the 2021-22 Scottish Budget. The three environmental charities say that all political parties in Scotland must use this opportunity to kick start a transformative green recovery and want to see greater investment in nature-based jobs and skills.
The new data makes it clear that strong investment in nature's recovery could, over time, create upwards of 4,000 jobs across peatland restoration; native woodland expansion, restoration and management; deer control; delivery of a Scottish Nature Network; and a farming advisory service. A further 3,000 jobs could be supported indirectly.
The Scottish Wildlife Trust's Chief Executive Jo Pike said:
"Our findings demonstrate how taking these initial steps towards nature's recovery can significantly benefit Scotland's economy and society, as well as helping to tackle climate change. Importantly, many of the green collar jobs identified within this analysis could help to sustain rural communities.

"As the draft budget progresses through the Scottish Parliament we want to see ambitious commitments to delivering a wide range of nature-based solutions to the serious challenges facing society. Investing in measures such as the creation of native woodland and establishing a new Scottish Nature Network represents an opportunity to both tackle the growing crisis facing nature, and support a transformative green recovery from the impact of Covid-19."
Read more via the Scottish Wildlife Trust website