Principles for Sustainable Peatland Paludiculture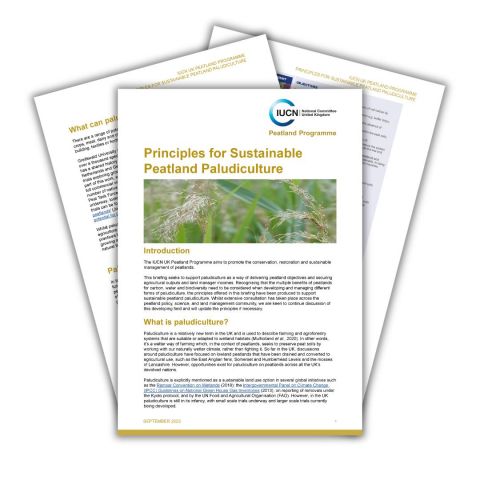 Paludiculture 'wetter farming' could help reverse centuries of peatland degradation and destruction from intensive, drainage-based agriculture. A fundamental change is needed in the way that peatlands are managed for agriculture as society tackles the climate change and biodiversity crises. With the agriculture sector also concerned about farm futures threatened by soil loss and wasted peat, paludiculture presents an opportunity to secure farm incomes and deliver peatland goals.
Paludiculture presents a wide range of opportunities with hundreds of potential 'wet crops' including food and building materials. With the common management being higher water tables to maintain carbon stores and reduce greenhouse gas emissions, it is vital that paludiculture is managed in a strategic way to ensure catchment scale water management and address biodiversity objectives. The IUCN UK Peatland Programme's latest briefing, 'Principles for Sustainable Peatland Paludiculture', sets out to ensure the multiple benefits of peatlands are realised when managing the different forms of paludiculture, and enable society to get the most from this major shift in agricultural peatland use.
As major trials get underway to explore the exciting opportunities arising from paludiculture, now is the time to start planning for this emerging farming approach to be truly sustainable.
Download this document and all of our other briefings here.