Moors for the Future Partnership has been working with Friends of Crompton Moor. For the last couple of years the community group has been carrying out sphagnum moss planting and vegetation monitoring. The first of its kind for the Partnership, this collaboration aims to give the community a sense of ownership of Crompton Moor through practical conservation.
The Partnership has worked with Friends of Crompton Moor to organise sphagnum planting days, where volunteers have come along to plant nearly 10,000 plugs of this crucial bog-building plant. The Partnership has also advised the group on carrying out the long-term monitoring of these sphagnum moss plug plants to look at how they grow and interact with the environment around them. The group will be monitoring 90 quadrats across the moor. The majority of the funding for the project has been secured by City of Trees, and has been granted by the Environment Agency.
This collaboration between the Partnership and Friends of Crompton Moor is a first for the Partnership and provides a blueprint for how community initiatives can become involved in practical conservation on their doorstep. By encouraging community involvement in moorland restoration, it may help to reduce incidences of wildfire, littering and misuse of the moorland as communities develop a sense of pride in these unique landscapes. Friends of Crompton Moor are also supported by, and work in collaboration with, other organisations including City of Trees, Oldham Council and Greater Manchester Ecology Unit.
As featured in BB Country File, Sunday 7th February, 2021. For more information...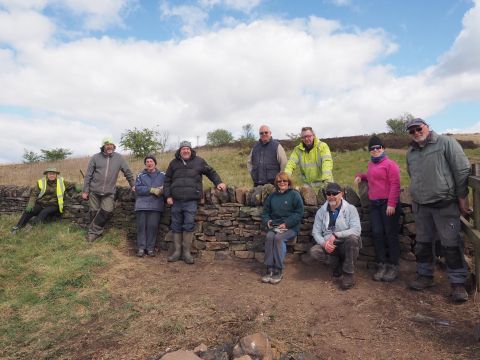 Friends of Crompton Moor volunteers with newly built dry stone wall © Moors for the Future Partnership