Jenny Sharman and Lyndon Marquis, of Yorkshire Peat Partnership, spent a hard but happy April day on Fleet Moss filming a music video with celebrated cellist, singer and songwriter Sarah Smout. Sarah releases her new single 'Atlas' in collaboration with the Yorkshire Wildlife Trust as part of her new project, Wild Music, on 4 June.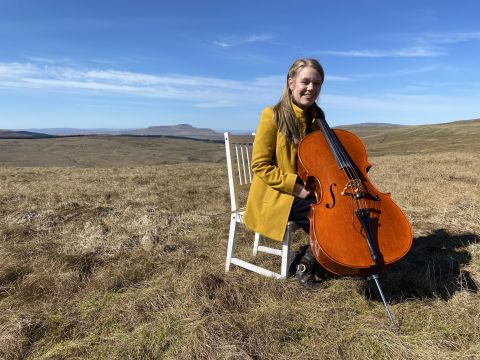 Sarah, who has worked with Michael Chapman, Bridget St John, King Creosote, The Magpies, The Mediaeval Babes and others, has been involved in many crossover projects between music and environmental issues. This one is particularly close to her heart and quite literally close to home for her in forging a link with her beloved Yorkshire Dales. 
'Atlas' is written from a birds' eye view, witnessing the gradually growing oceans and disappearing forests, encapsulating how everything is interlinked; how climate change, loss of biodiversity, and human use of land all contribute to  changes in the natural rhythms and patterns of bird migration. The video aims to highlight Yorkshire Wildlife Trust's role, through Yorkshire Peat Partnership and Pennine PeatLIFE, in restoring and re-wilding some of the county's most fragile environments. Their aim is to make the public much more aware of healthy peat bogs as an important carbon store and biodiverse ecosystem, and the film will be shown across national news and media in the forthcoming months. More videos highlighting other environmental issues are due to be filmed in 2021 under the banner of Wild Music. 
Sarah said:
 "Being at Fleet Moss feels like I'm visiting a broken landscape. The degradation is shocking. I wrote Atlas from a birds' eye view, witnessing changes in the landscape and the inevitable chain reaction that happens when one thing gets damaged in an ecosystem."
"I wanted to make this video with YPP because the work they are doing is restorative, and gives hope for the habitat to recover. I really hope people enjoy the film and the incredible footage we got of the healing landscape, and that me and my cello can play a small part in getting the message across that the place for peat is in the ground."
The track will be premiered on Yorkshire Wildlife Trust's YouTube channel. To keep up to date with news on the release, check out Sarah's website: https://www.sarahsmoutmusic.co.uk