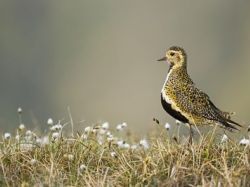 Peatlands support many important species and unique ecosystems. Much of the UKs peatland is identified as internationally important under EU wildlife legislation.
This Review defines the unique values of peatland biodiversity and describe the extent of peatland habitats. The Review Team considers factors which may lead to fragmentation or degradation of peatlands and the associated biodiversity impacts of these.
Best Practice Management is discussed, in terms of where management maintains important biodiversity features, and situations where such features are jeopardised. Finally, the Review examines the possible future impacts of climate change on peatland biodiversity.
Scientific Review

Please note, the views expressed in this review are those of the authors. The IUCN UK Peatland Programme is not responsible for the content of this review and does not necessarily endorse the views contained within.
Review Team
This Review is lead by Dr Nick Littlewood of Macaulay Land Research Institute.

Nick is an applied ecologist with a strong background in wildlife conservation. He first worked on peatlands in the early 1990s, carrying out bird surveys on the Flow Country. After then working for several years in nature reserve wardening he did a PhD, based at Aberdeen, on biodiversity impacts of moorland restoration. He then managed the North East Scotland Biological Records Centre (NESBReC) for two years and, since 2007, has been employed as an Ecologist at the Macaulay Land Use Research Institute in Aberdeen. He leads on terrestrial insect ecology research though his interests cover a wider span of wildlife ecology, in particular the impact of management on biodiversity in upland environments.