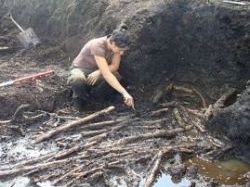 This Review summarises available information about the potential of peatlands to preserve historical evidence and describe the distribution of known archaeological sites in peatlands.
The Review Team discusses the unique character of the peatland historic environment and its relation to policies regarding 'cultural value', and consider current and possible future threats to the resource, including changes in land use and anthropogenic factors, synergies with climate change and possible conflicts with current policies and management.
Issues of the management of the historic environment of peatlands in relation to other review topics are also considered.
Scientific Review
Please note, the views expressed in this review are those of the authors. The IUCN UK Peatland Programme is not responsible for the content of this review and does not necessarily endorse the views contained within.
This Review is funded by English Heritage.
Review Team

This review is lead by Dr Ben Gearey of the University of Birmingham.
Ben Gearey is Research Fellow in the Institute of Archaeology, University of Birmingham. His current research interests include the environmental archaeology of wetlands with a particular focus on lowland mire systems.