There is a recognised need to embed peatland learning and training in education not only to share understanding of the importance of UK peatlands to broad audiences but to inspire peatland managers of the future.
A Scoping Study was commissioned to investigate opportunities to provide peatland learning opportunities to school and further education (FE) school/college partnership students within local communities across a National scale.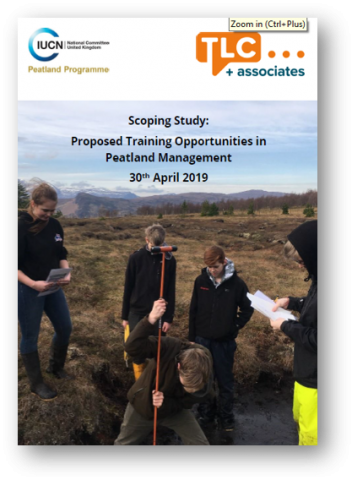 The aim of the scoping study was: 
Identification of existing national occupational standards (NOS), national courses (NC) within the Scottish Credit and Qualifications Framework (SCQF) and modern apprenticeships (MA) that lend themselves to accommodating peatland learning.
Identification of existing qualifications (including the above) that have potential to benefit from/accommodate a peatland specific land use and management unit.
Identification of existing teaching materials and opportunities available, or in development, from IUCN UK PP partners and others as available.
Explore demand/interest in schools/colleges and potential school/college partners via a purposive sample from Ullapool High School contacts: Head Teacher, Highland Council Strategic curriculum staff and others with an in depth interview.
Following the Scoping Study a Pilot Proposal has been developed to detail theoretical pilot units or teaching elements that could be delivered in Ullapool High School beyond June 2019 including the mechanisms for delivery and possible future funding opportunities. We hope to be able to fund this pilot in 2020.