There are currently 444 designated sites (EU and Ramsar) in the UK with at least one peatland habitat present, however many peatland habitats remain undesignated (Lindsay & Clough, 20171).
Given peatlands form the UK's largest extent of semi-natural habitat, they have a particular role in conserving species. Some of these species are rare and/or declining and are priorities for conservation action. For bogs (rainfed peatlands), the vegetation can be akin to that found in boreal latitudes supporting particularly distinctive biodiversity, with vegetation dominated by Sphagnum mosses and low shrubs supporting species of open ground.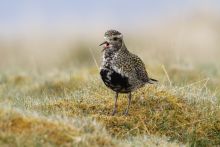 The acidic, low-nutrient nature of most peatlands has led many of the plant species permanently associated with them to adapt and develop distinctive features, e.g. the digestion of insects by the carnivorous round-leaved sundew, Drosera rotundifolia (Minayeva, Bragg, & Sirin, 20162). Many 'peatland' birds and mammals are typically associated with particular seasons, such as breeding season or during migration. Peatland invertebrates can act as an important food source, such as tipulids (craneflies) for breeding golden plover (Pluvialis apricaria) (see left © Maragaret Holland) and red grouse (Lagopus lagopus scoticus) chicks.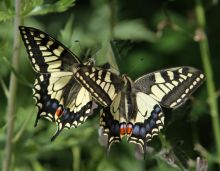 Fen peatlands have developed under a wide range of wet conditions in all parts of the UK, from low-nutrient, acidic and bog-like through to high nutrient and base-rich. Consequently, a large number of species are associated with them. Some of these are now geographically restricted and rare, for example the swallowtail butterfly (Papilio machaon) (see right © Brian Macfarlane) which feeds on milk parsley (Thyselium palustre) and is restricted to the Broads. Large fen complexes now provide the only habitat for many threatened bird species including common crane (Grus grus) and the rare spotted crake (Porzana porzana).
International policies that recognise peatlands for their often highly specialised biodiversity are numerous and include the Ramsar Convention, UN Convention on Biological Diversity, EU Biodiversity Strategy and EU Habitats and Birds Directives.
 
1 Lindsay, R. A., & Clough, J. (2017). In H. Joosten, F. Tanneberger, & A. Moen (Eds.), Mires and Peatlands of Europe (pp.705-720). Stuttgart: Schweizerbart Science Publishers.
2 Minayeva, T., Bragg, O., & Sirin, A. (2016). Peatland biodiversity and its restoration. In A. Bonn, T. Allott, M. Evans, H. Joosten, & R. Stoneman (Eds.), Peatland Restoration and Ecosystem Services: Science, Policy and Practice. 44-62: Cambridge University Press.
---
This Review, undertaken as part of the Commission of Inquiry in 2011, defines the unique values of peatland biodiversity and describe the extent of peatland habitats. The Review Team considers factors which may lead to fragmentation or degradation of peatlands and the associated biodiversity impacts of these.
Best Practice Management is discussed, in terms of where management maintains important biodiversity features, and situations where such features are jeopardised. Finally, the Review examines the possible future impacts of climate change on peatland biodiversity.
Scientific Review
Please note, the views expressed in this review are those of the authors. The IUCN UK Peatland Programme is not responsible for the content of this review and does not necessarily endorse the views contained within.
Review Team
This Review is lead by Dr Nick Littlewood of Macaulay Land Research Institute.

Nick is an applied ecologist with a strong background in wildlife conservation. He first worked on peatlands in the early 1990s, carrying out bird surveys on the Flow Country. After then working for several years in nature reserve wardening he did a PhD, based at Aberdeen, on biodiversity impacts of moorland restoration. He then managed the North East Scotland Biological Records Centre (NESBReC) for two years and, since 2007, has been employed as an Ecologist at the Macaulay Land Use Research Institute in Aberdeen. He leads on terrestrial insect ecology research though his interests cover a wider span of wildlife ecology, in particular the impact of management on biodiversity in upland environments.