We often take for granted the value of the goods, services and amenity that peatlands provide us with – their 'natural capital'. This lack of recognition has led to much of the damage and deterioration present in the UK's peatland resource today.
Failure to address past actions and increase our efforts to urgently address the state of peatlands could represent a significant economic cost to future generations. Costs arising from greenhouse gas emissions, loss of biodiversity, damage to farming, recreational and sporting interests, flooding and drinking water impacts, will all contribute to the negative financial implications for businesses and taxpayers. From economic analysis, the full cost of damaged peatlands to society including biodiversity loss, impacts on drinking water and flood management will extend into the £billions (Committee on Climate Change, 2013). 
With the majority of peatlands already in a damaged state, simply leaving them alone will create further liabilities as they deteriorate. The UK devolved governments are therefore committed to conserving peatlands - protecting and restoring their natural capital. 
These commitments, however, can only be met if natural capital finance becomes a reality. Natural capital finance and conservation financing describe investments to conserve the value of the natural environment for the long term. Within the UK, Defra biodiversity spending, EU LIFE spending and Non-Government Organisation spending accounts for over £476 million per year (RSPB, 2018). Despite this, there is a growing deficit in funding to maintain/improve the natural environment. Investment in peatland is a key part of this funding gap, where the restoration of the peatland habitat in the UK is estimated to require a minimum of £500 million over the next 10 years (IUCN, 2016, pers. comms). Public and third sector sources are unlikely to provide sufficient additional funds, therefore, private sector funding from businesses and investors (green finance) will have a key role to play.
Below: Comparing gains and costs in the transition between peatlands in different conditions (UK Peatland Strategy)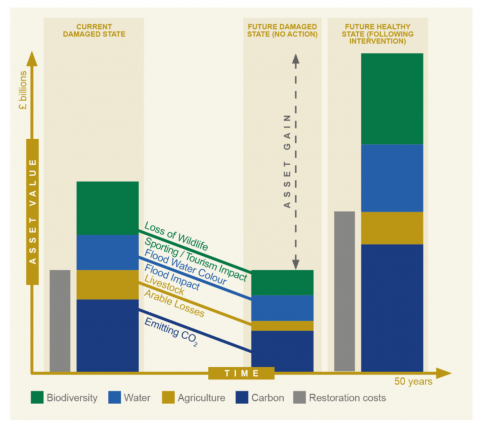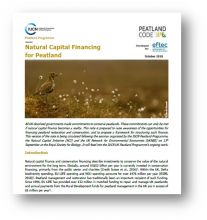 All UK devolved governments made commitments to conserve peatlands. These commitments can only be met if natural capital finance becomes a reality.
This note is prepared to raise awareness of the opportunities for financing peatland restoration and conservation, and to propose a framework for structuring such finance. This version of the note is being circulated following the seminar organised by the IUCN Peatland Programme, the Natural Capital Initiative (NCI) and the UK Network for Environmental Economists (UKNEE) on 13th September at the Royal Society for Biology. It will feed into the IUCN UK Peatland Programme's ongoing work.
Natural Capital Financing for Peatland Briefing, October 2018