Eyes on the Bog provides a scientifically robust, repeatable, low tech, long-term monitoring initiative. 
The standardised methodology enables individual peatland sites to be consistently monitored across the UK, creating a network of comparable sites. The initiative employs cheap, simple techniques and modern technology to enable useful monitoring information to be collected by peatland community employees or volunteers on:
          

Peat subsidence and carbon loss

         

Carbon capture

         

Water table behaviour

         

Peat soil condition

         

Vegetation status, structure and composition

         

Historical context of change and current trajectories
This suite of metrics provides reliable information which may be used to effectively inform management interventions, refine metrics for the Peatland Code, help to test long term climate predictions and inform assumptions about the condition and function of UK peatlands. 
The initiative not only provides an accessible robust monitoring methodology, it also provides inspiration and support for peatland projects to engage the wider community in monitoring the condition and long-term changes of peatlands. Totemic markers installed at appropriate locations give quality assurance to established Eyes on the Bog sites and provide an opportunity to work closely with local artists, promote sponsorship from local businesses and encourage people to submit fixed point photographs, creating a visual archive of long-term landscape changes, and celebrating the importance of peatlands.
To find out what, why and how to get involved in Eyes on the Bog download our introductory leaflet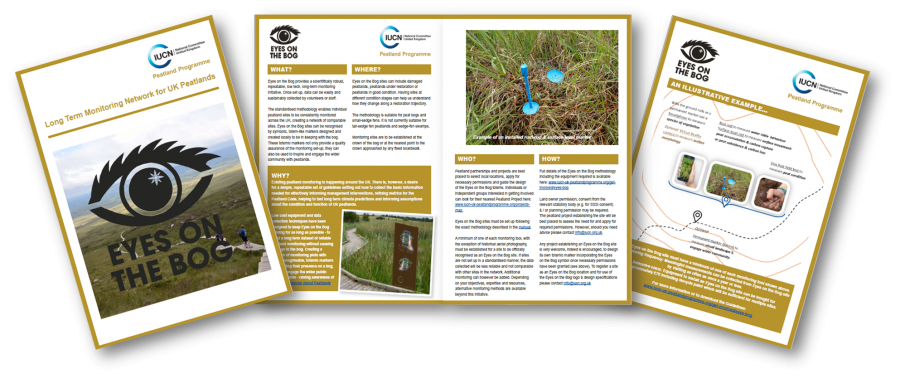 For more more detailed information, equipment list and methodology please see the Eyes on the Bog Manual.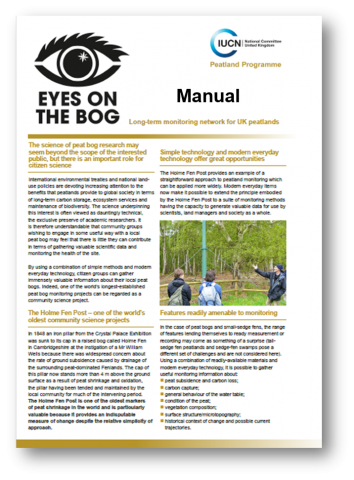 Eyes on the Bog Champion, Jack Clough (University of East London) and Gabriela Lopez Gonzalez (University of Leeds) explain more about the Eyes on the Bog initiative and the PeatDataHub during the our conference in December 2020: 
For more information or to register a site please contact info@iucn.org.uk.