Registration for this year's IUCN UK Peatland Programme conference 'Peatlands in Partnership: a road to recovery' is now open. We are delighted to be able to offer delegates free access to this event.
Delegate Registration - open until close of conference
Call for Exhibitors and Presentations of Research - Deadline 20th August
The conference will be brought to you as a virtual event taking place on the 13th - 16th September 2021 in partnership with Pennine PeatLIFE, led by the North Pennines Area of Outstanding Natural Beauty (AONB) Partnership in collaboration with Yorkshire Wildlife Trust and Forest of Bowland AONB Partnership, and Moors for the Future Partnership's MoorLIFE2020 project. 
Our annual conference series present opportunities for policy makers, scientists, land managers and practitioners from different disciplines to share their knowledge, experience and enthusiasm of peatland conservation and management. 
As 2021 welcomes the emergence of country level plans for peatland conservation and management across the UK this year's conference will celebrate the progress being made by peatland partnerships and communities to protect, enhance and restore these valuable areas. We will reflect on the funding, evidence and communication needed to achieve effective action for peatlands and explore learnings to ensure progress continues along a road to recovery.  
A call for exhibitors and presentation of research will open soon. Further announcements regarding the conference will be available here and shared on Twitter @IUCNpeat #PeatConf21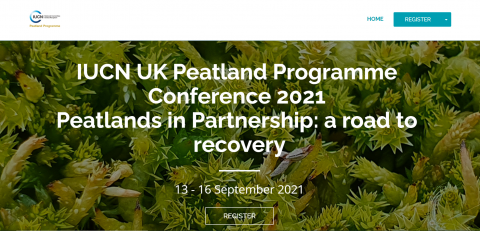 The 2021 IUCN UK Peatland Programme conference will be delivered in partnership with: