The IUCN UK Peatland Programme has today launched a new and highly anticipated update to the Peatland Code, which helps to boost the restoration and protection of the UK's Peatlands. 
By registering with the Peatland Code landowners with eligible, degraded peatlands can generate carbon units which can be sold to companies seeking to offset their residual carbon emissions. These carbon buyers are provided with assurance that their greenhouse gas (GHG) reduction claims are validated and verified by an independent body.
Renée Kerkvliet-Hermans, Peatland Code Co-Ordinator at IUCN Peatland Programme said 
"I am delighted that we have been able to expand the Peatland Code to include more lowland peat habitats such as fens, and I expect we will see a lot more restoration projects getting underway as a result of these changes.  
If the UK is to meet its climate targets, investment must be made to restore peatland landscapes, first of all to stop them emitting carbon dioxide and eventually to bring them back to a healthy condition so they can begin absorbing the carbon from our atmosphere and locking it away. It is becoming increasingly clear that public finance alone is not enough to cover the cost of these vital restoration works at the scale and speed required to mitigate climate change.  
The changes to the Peatland Code mean that more private investors will be incentivised to buy carbon units and directly support peatland restoration; to deliver their net zero targets, contribute to the long-term protection and enhancement of our natural environment and also add value to their business and brand."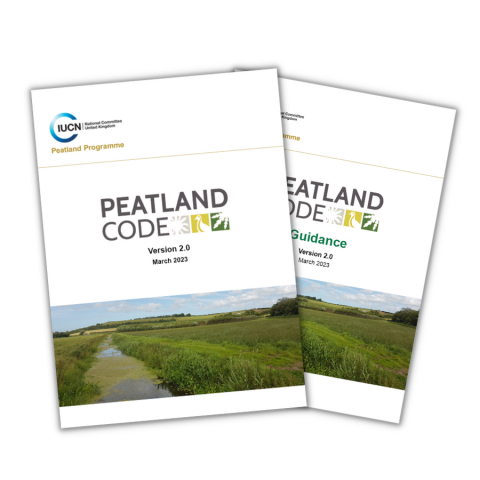 What is new in Version 2?
A recent Department for Environment, Food and Rural Affairs (Defra) funded research report from the UK Centre for Ecology & Hydrology (UKCEH), the James Hutton Institute, Scotland's Rural College, the University of East London and the University of York, on greenhouse gas data and associated emissions factors, formed the basis for this update to the Peatland Code, ensuring it continues to align with the UK Greenhouse Gas Inventory, which is critical for accurate national reporting of climate change mitigation activities.
Further work by the IUCN UK Peatland Programme and its broad partnership of government and devolved agencies, academic research bodies and restoration partners across the UK enabled updates to other areas of the scheme.
The Peatland Code has now expanded to include fens
Fens with a minimum peat depth of 45cm are now eligible for restoration under the Peatland Code

Peat coring will be used to measure fen peat depth rather than using a rod

Water table measurements across the site will be required to demonstrate the baseline condition and efficacy of the restoration measures

Introduction of a calculator that uses water table as a proxy to calculate emissions reductions. 
There are also updates to the eligibility of bogs
Minimum eligible peat depth of 30cm reduced from 50cm. Areas with peat between 30 and 50 cm deep shall be part of a restoration project contiguous with areas of deeper peat to be eligible.  

Areas of continuously shallow peat which are un-connected to 50cm+ peat are excluded.  

Peat depth only needs to be measured and recorded up to 1 meter: the Peatland Code no longer requires full peat depth.   

"Modified" will be an eligible baseline condition but to be included in the emissions calculations an active intervention is required
This updated version of the Peatland Code, which until now has only permitted restoration projects on bogs, has been expanded to include fen peatlands, for the first time. The inclusion of fens will allow those managing and owning these landscapes to attract private finance to restore these iconic areas effectively for nature and climate, as well as providing benefits for local communities in terms of better water quality and opportunities for increased sustainability of agriculture.
Agricultural lowland peat soils, including fens, are some of the largest emitters of greenhouse gases with arable crops and grassland on drained peatland accounting for around 59% of UK GHG peat emissions from just 15% of all of the UK's peat soils.  There is a huge carbon benefit to be realised through the restoration and sustainable management of these lowland fen and bog peat soils.
Within the updated Version 2.0, eligibility criteria were broadened to include areas of shallower peat down to 30 cm as well as re-examining the field survey methodologies to ensure that they are robust whilst making it easier to gauge the condition of landscapes throughout their restoration.  
A suite of new guidance documents, calculators and supporting information have been created to guide projects through the process of applying the Peatland Code and undertaking independent validation and verification of their peatland restoration and associated carbon savings.
Projects can continue to use version 1.2 of the Peatland Code until the 31st of May 2023.
From the 1st of June 2023 all validations and verifications must happen against Peatland Code Version 2.0.