The Department for Agriculture, Environment, and Rural Affairs (DAERA) have developed a draft Northern Ireland Peatland Strategy 2021-2040 which will provide a framework for conserving intact semi-natural peatlands and restoring degraded semi-natural peatlands. During a visit to Cuilcagh Mountain Special Area of Conservation in County Fermanagh Environment Minister, Edwin Poots MLA, has launched a public consultation on the Strategy, which will be open for 12 weeks from 9th June until 1st September 2021.
Minister Poots said:
"Peatland restoration is a really important nature-based solution for addressing the climate and biodiversity crisis. I have therefore issued a public consultation on a draft Northern Ireland Peatland Strategy and I am keen to hear a range of views about our proposals to take forward peatland conservation and restoration over the next two decades."

"DAERA has a vision of a protected and enhanced natural environment, which underpins our emerging policies and programmes to deliver ecological and climate resilience through nature-based solutions, green growth and sustainable agriculture."
The document outlines six strategic objectives:
Conserve peatlands & prevent degradation
Restoration of degraded areas to functioning peatland ecosystems (designated & non-designated sites)
Supporting Sustainable Peatland Management
Knowledge Sharing & Research
Communication, Education & Access
Governance, Implementation & Funding
 
The strategy document acknowledges that restoring Northern Ireland's peatlands will require "a collaborative approach involving government, landowners, land managers, public sector bodies and environmental groups, guided by scientific and technical expertise, appropriate legislation and policies and with a robust funding mechanism in place."
DAERA has launched a consultation to collate feedback from stakeholders in response to the Strategy. The consultation opened on Wednesday 9th of June and will close on Thursday 9th September 2021 at 23.59.

To read the full strategy and submit your views please visit www.daera-ni.gov.uk/consultations/ni-peatland-strategy-consultation
Read the full press release: https://www.daera-ni.gov.uk/news/poots-launches-peatland-consultation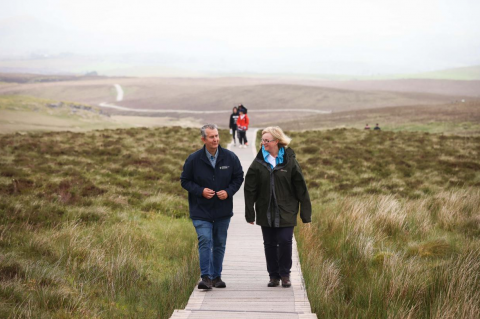 Minister Poots pictured with Jennifer Fulton, CEO of Ulster Wildlife