Wales Peatland Action practitioner event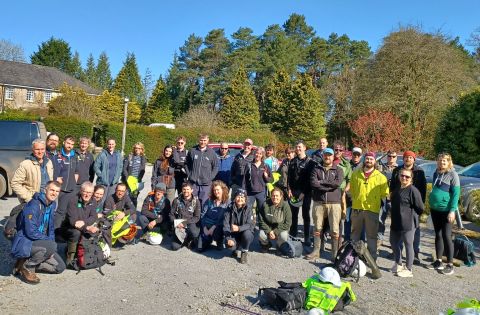 With over 100 intervention techniques employed for peatland restoration action, newcomers to the subject are often flummoxed by the variety. Wales Peatland Action embraced the reality that it's through the collective experience of peat practitioners working across Wales, in diverse landscapes and peatland conditions, that best practice will be promoted.
Sharing what worked, and importantly what didn't work and why, is a significant contribution that practitioners can make to the body of knowledge of on-the-ground peatland restoration action. Consequently, the two-day event organised by NPAP on the 20th and 21st of April 2023, supported by partners, was seen to address and answer a need for both a structured network and opportunities for informal information exchange. In all, 44 people engaged with various aspects of the event, with 36 registered for each of the two-day site visits, representing 14 organisations and projects. The Practitioners' feedback was overwhelmingly positive with the general consensus being: "Good range of challenges and techniques to see, all very interesting." "Sparked some good discussions." "It's clear we all use slightly different techniques, and each year the contractors are trying out new ideas – it's good for all of us to move forward at the same pace."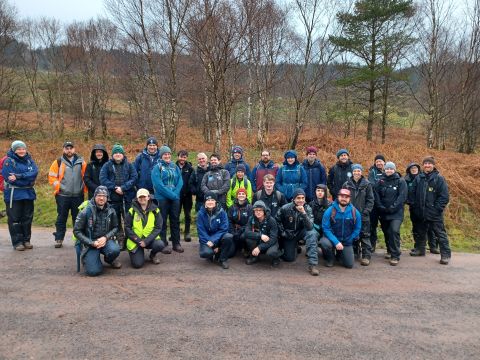 The success of the event was in no small part due to the effective and generous partners' input. Firstly by the Pen y Cymoedd project hosting a valuable site visit, supported by the Lost Peatlands team's site overview and practical resources from Vattenfall. Then, on the second day, by Bannau Brycheiniog National Park and the National Trust hosting a fascinating uplands site visit, supported by Dŵr Cymru. The evening highlight was a presentation by Dr Peter Jones on the 'Peatlands of Wales', in all their absorbing forms. The evening ended with an opportunity to thank NPAP's programme manager, Dr Rhoswen Leonard, for the drive to hold the event and to wish her the best during her maternity leave, as Dr Esther Clews steps up to take on the role in the interim.
Visit Natural Resources Wales / The National Peatland Action Programme or email npap@cyfoethnaturiolcymru.gov.uk for further details about strategic Wales Peatland Action activity.