The Peatland Code has reached yet another milestone in its development and expansion, with the first registration of a peatland restoration project under the Peatland Code in Northern Ireland. This project was brought forward by RSPB NI, Northern Ireland Water and RPS Group and also marks the first project submitted by the project partnership.
The Peatland Code, which is developed and managed by the IUCN UK Peatland Programme, was recently updated to include more varied peatland habitats than ever before. It is a voluntary certification standard for UK peatland projects wishing to market the climate benefits of peatland restoration, and provides assurances to voluntary carbon market buyers that the climate benefits being sold are real, quantifiable, additional and permanent.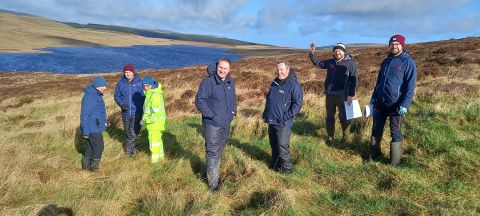 Image: Garron Plateau © Martin Clift
The new site is located on the Garron Plateau, which is a Special Area of Conservation (SAC) in County Antrim, Northern Ireland, an area of active blanket bog, alkaline fen, wet and dry heath and open water habitats. 
The site supports important flora and fauna assemblages including hen harrier, curlew, golden plover, dunlin, red grouse, otter, Irish hare and large heath butterfly, and has a rich vascular plant interest which includes marsh saxifrage.
Several other projects, both at Garron and further afield, are in development.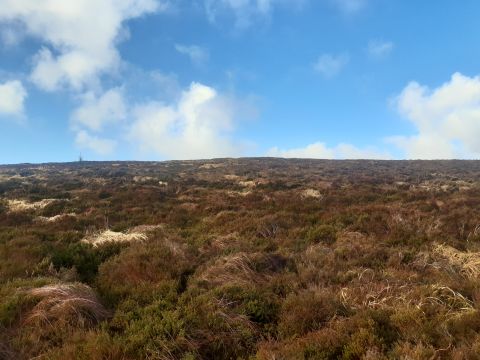 Image: Garron Plateau © Martin Clift
The Garron Plateau SAC has a mix of both private and public ownership. Northern Ireland Water, owning the c.1,937-hectare catchment around Dungonnell reservoir, is the largest landowner. 
This registered restoration plan is the first of several projects in development, and covers an area of land (343.47 hectares) south of Dungonnell reservoir. RSPB NI, in partnership with Northern Ireland Water and RPS Group, have drawn up a plan for the restoration of peatland habitats in compartment four of Northern Ireland Water's area of the Garron Plateau.
Francis Flanagan, Peatland Project Manager for RSPB Northern Ireland said,
RSPB NI has been working closely with NI Water for over a decade now on catchment scale peatland conservation on Garron Plateau, part of a wider peatland recovery programme here in Northern Ireland, and we're proud of the partnership to have this first site registered. It's an exciting development which will champion the value of these habitats and the role we all must play in turning around the climate and ecological crisis.

We're grateful to the Department of Agriculture, Environment and Rural Affairs Environment Funding in supporting the staff time in this first step to unlock the opportunities towards achieving long term sustainable climate and nature conservation in Northern Ireland.
Renée Kerkvliet-Hermans, Peatland Code Co-ordinator for the IUCN UK Peatland Programme said,  
The registration of a Northern Ireland site under the Peatland Code is an important milestone. It is becoming increasingly clear that in order to restore the UK's peatlands at the scale and speed required to mitigate climate change, private finance is needed to bolster public funding to support restoration and return these habitats to a healthy condition.

We are so pleased to see this opportunity being taken up in Northern Ireland, which is home to stunning and vital peatland habitats and offers significant potential for scaling up the number of restoration projects in the UK.