Interest in the Peatland Code continues to grow and the team are experiencing increased demand for support for new and future projects. To support the increased demand for carbon units from high profile investors, and to give the Peatland Code increased rigor we continue to work towards United Kingdom Accreditation Service (UKAS) accreditation. We hope that both the Code, and our current certification body (Organic Farmers and Growers (OF&G)) will be certified during early 2021.

As part of improving the supply of projects to the Code we recognise that there is a need for a wider roll out of training of advisors across the UK. Dr. Renée Kerkvliet-Hermans, joined the team as the new Peatland Code Co-ordinator in November 2020 and delivered the first training session to RSPB fundraisers in mid-January with more scheduled to follow. Anybody interested in training on the application of the Peatland Code, please do get in touch with Renée (renee.kerkvliet-hermans@iucn.org.uk).

Currently we are working to update our Peatland Code website pages and guidance. Please do look out for these updates and if you have any feedback on information you would like to see included, please let us know.

Lastly, and perhaps most importantly, we will be working throughout 2021 on a suite of technical updates to the Peatland Code. These updates will seek to address feedback from existing projects, to include new condition categories to the Peatland Code and to review the existing emissions factors used. In addition, we have a working group chaired by Tim Thom from Yorkshire Peat Partnership who are looking at the wider peatland ecosystem services markets and how the Peatland Code can become more closely integrated with developing mechanisms such as biodiversity net gain. We hope to launch v2.0 of the Peatland Code towards the end of 2021.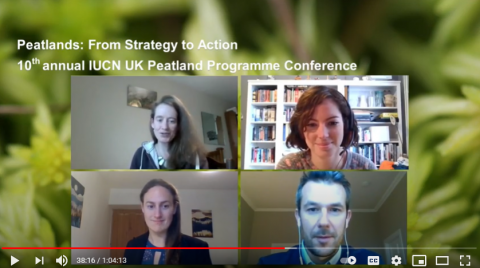 For any enquiries relating to the Peatland Code, please contact Dr. Renée Kerkvliet-Hermans renee.kerkvliet-hermans@iucn.org.uk