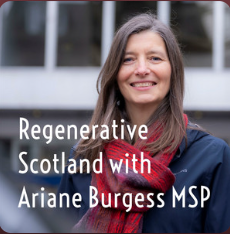 Our Peatland Code Co-ordinator Renée Kerkvliet-Hermans recently appeared on the podcast 'Regenerative Scotland with Ariane Burgess MSP'. Renée spoke in the second of two episodes focussed on 'Valuing Nature, Carbon and People' about the beginnings and intricacies of the Peatland Code (PC).
In the second episode, titled 'Regulating with Codes', the podcast explored the PC and the Woodland Carbon Code (WCC). It looked at the fact that Scotland's National Strategy for Economic Transformation has committed to establish a high-integrity market for responsible private investment in natural capital. The foundations of this market, however, already exist in the form of the voluntary trade in carbon credits such as those in the PC and the WCC.
Renée said, as part of the podcast, "Quite a while ago we realised that there wasn't enough public money to actually restore all our peatlands and there wasn't the scale and the pace that we needed for it to happen. So, there was a realisation that if we could potentially get private finance to help with the restoration of these peatlands, we could hopefully do it at a quicker pace and get more peatlands restored."
The episode also featured Dr Eleanor Harris, Natural Capital and Carbon Leader at Galbraith's, a property consultant and land management company with expertise in forestry and woodland management.
You can listen to the episode on Spotify or on SoundCloud.
The first episode (which you can listen to on Spotify or on SoundCloud) looked at carbon offsetting and natural capital.