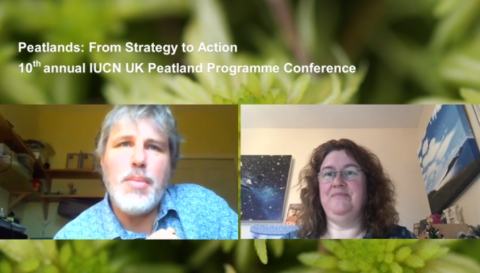 Theme of the day - Resourcing peatland conservation and management: funding, finance and training.
Chris Woodley Stewart, North Pennines Area of Outstanding Natural Beauty.
The cost of restoring vs. not restoring peatlands
Hazel Trenbirth & Adam Dutton, Office for National Statistics.
This session explores the Peatland Code: an innovative finance mechanism.
An overview of the Peatland Code
Renée Kerkvliet-Hermans, IUCN UK Peatland Programme
The Peatland Code in action
George Hepburne-Scott, Forest Carbon
The Peatland Code in Wales: Highlights from the Welsh Peatlands Sustainable Management Scheme
Rachel Harvey, Welsh Peatlands SMS
Peatland partnerships share their journeys from the original framework in which they were created through changing funding and finance landscapes, including examples of integrated public and private funding opportunities, and share their vision for a sustainable future.   
Integrating ecosystem markets to deliver landscape-scale public benefits from nature.
Mark Reed, Scotland's Rural College
A case study from the Welsh peatlands Sustainable Management Scheme
Liz Lewis-Reddy, ADAS
Moors for the Future Partnership - A case study from the English uplands
Christopher Dean, Moors for the Future Partnership
Meres and Mosses - A case study from one of Britain's largest lowland raised bogs
Robert Duff, Natural England
European researchers share their experiences of quantifying carbon & other ecosystem benefits from peatlands.
Carbon Farming on peatlands: remuneration and new job profiles with paludiculture.
Susanne Abel, Greifswald Mire Centre
Experience from the carbon credit scheme in the Netherlands and a brief overview of ecosystem service payments ('blue-green assets') through regional water authorities and governments.
Christian Fritz, Radboud University 
GEST and IPCC-based calculation of Carbon credits.
Jasper van Belle, Van Hall Larenstein University of Applied Sciences
Modelling GHG fluxes at the peatland atmosphere interface.
Laurent Andre, BRGM - French Geological Survey
Peatland training resources & embedding peatlands in education
Richard Lindsay, University of East London & IUCN UK Peatland Programme
Peatland restoration training: Entry level Lantra approved course for officers.
Oliver Mackrill, Yorkshire Peat Partnership & Welsh SMS
Training peatland for restoration contractors 
Emily Taylor, Peatland Action & Crichton Carbon Centre
Conference Closing Address
Sarah Proctor, IUCN UK Peatland Programme