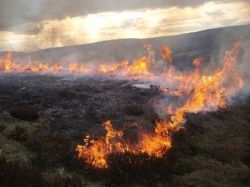 This Review examines the effects of burning management on biodiversity, and attempt to identify species that benefit from those that suffer as a result of burning. The Review Team looks at the impact of burning on water management, on greenhouse gas fluxes, and in particular the change in biomass and the development of char under managed burning, are considered.
Finally, the Review examines the socio-economic impacts of burning management and the extent to which burning increases grouse production, manages wildfire, whether it can increase sheep production and what the public perception of prescribed burning is.
Scientific Review
Please note, the views expressed in this review are those of the authors. The IUCN UK Peatland Programme is not responsible for the content of this review and does not necessarily endorse the views contained within.
Review Team
This review is lead by Dr Fred Worall of University of Durham.