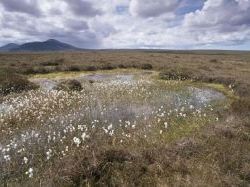 Peatlands play a key role in water resource management, storing a significant proportion of global freshwater resources and maintaining water quality.
This Review defines peatland hydrology, analysing status and trends, and examines drivers of change in peatland hydrology including climate, pollution, land use and management. The Review Team looked at the impacts of drainage, examined the benefits and disbenefits of drain blocking and best practice in this activity. Practical tools for monitoring and assessment were also assesed.
Finally, the Review also examined projections of future climate and land use impacts on UK peatlands, and the interaction between management and policy options with the other review topics in relation to hydrology.
Draft Scientific Review
A final draft of this report is currently underway, and will be available online shortly.
Please note, the views expressed in this review are those of the authors. The IUCN UK Peatland Programme is not responsible for the content of this review and does not necessarily endorse the views contained within.
This Review is funded by the North Pennies AONB Partnership.
Review Team
This review is lead by Dr Jillian Labadz of the University of Nottingham Trent.

Dr Jillian Labadz has over 25 years research experience related to the hydrology and restoration of both lowland raised bogs and upland blanket bogs. She has worked on projects for Natural England, the Environment Agency, water companies, local authorities and Wildlife Trusts. This work has frequently involved assessments of the hydrological condition of bogs together with topographic, vegetation and peat depth surveys, leading to recommendations for management and remediation, and in 2007 she led a team reviewing the management and restoration of blanket peat for DEFRA.