Peatlands: Investing in the Future
1st – 3rd October 2019 
Europa Hotel, Belfast 
In partnership with Department of Agriculture, Environment and Rural Affairs (DAERA) and Pennine PeatLIFE project led by the North Pennines Area of Outstanding Natural Beauty (AONB) Partnership in collaboration with Yorkshire Wildlife Trust and Forest of Bowland AONB Partnership. 
This, the 9th in our conference series, celebrated the 10th year of the IUCN UK Peatland Programme partnership. A huge amount has been achieved by the UK peatland community over the last 10 years. There is a growing appreciation of the vital role peatlands play in addressing the climate change and biodiversity crises we now face – investing in peatland health is investing in the future.

This year's conference included peatland field trips (above left © Dana Thomas), a formal networking evening at Stormont Parliament Buildings sponsored by Cathal Boylan, Sinn Féin spokesperson on Environment, Energy & Climate and Pam Cameron , Democratic Unionist Party (above centre) and poster exhibition with peatland Virtual Reality (above right).  
The conference series presents an opportunity for policy makers, scientists, land managers, practitioners, businesses and communicators to connect and share their knowledge, expertise and enthusiasm for peatlands.
221 local, national and international delegates and volunteers from across sectors came together over 3 days to explore themes including:
UK peatlands in an international context
Progress made towards UK Peatland Strategy goals
Update on key peatland topics: Commission of Inquiry
Peatlands and Climate Change
Natural Capital & Innovative Investment
Evidence & priority research needs and break-throughs
Building support for Peatland Protection & Restoration
Restoration challenges, new developments & best practice.
For speaker presentations see:
This conference aimed to provide a forum for delegates to explore: 
How we maintain momentum and monitor progress towards the UK Peatland Strategy goals and share experience internationally;
How we maximise funding, finance and incentives to deliver healthy peatlands and realise their true value, especially in the face of climate change;
How we best account for the role of peatlands in meeting national and international agreements.
With investing in the future in mind, over the three days (1st – 3rd October) the conference highlighted progress made towards UK Peatland Strategy goals within an the international context as well as sharing emerging evidence, including reviews of key topics and innovative investment opportunities. Discussions were facilitated on current challenges and new ideas around: peatland restoration; prioritising research and monitoring and engaging with key stakeholders both strategically and on the ground.
Conference Programme (below left) and field trip options (below right)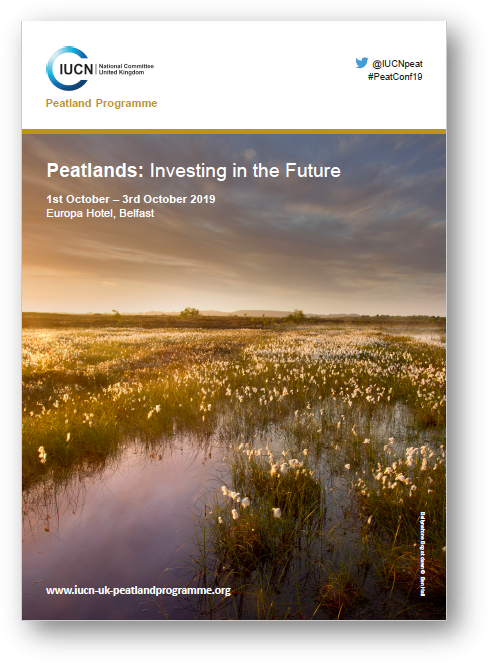 The UK is a global leader in peatland restoration. This is only made possible by the enthusiasm and
dedication of hundreds of individuals, whether paid staff or volunteers; NGO, Government, academic,
business or private land manager. We would like to commend the whole peatland community and
particularly the partnerships that drive this work, restoring and protecting peatlands for future generations.
The 2019 IUCN UK Peatland Programme conference was delivered in partnership with:

We were delighted to bring the conference to you this year in partnership with:
Kindly sponsored by:
And with much appreciated support from: