Our annual conference series presents opportunities for the UK peatland community - policy makers, scientists, land managers and practitioners - to share their enthusiasm, knowledge and experience of peatland conservation and management. 

The 14th IUCN UK Peatland Programme conference will offer in-person attendance across all three days, as well as the opportunity to join our plenary talks on Day 1 remotely.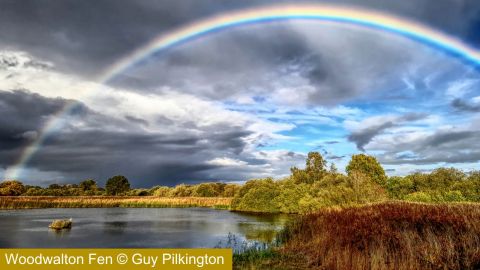 This year's theme of 'Beyond Restoration' will allow us to take a look into the future of peatland management, reflect on the collective direction of travel and explore mechanisms to secure the future of UK peatlands in the long-term. Being located in Ely, in close proximity to lowland fens, gives us the opportunity to reflect on the unique challenges posed through managing these landscapes, as well as using the local context to explore nationally relevant topics such as agri-environment funding and policies, aftercare/management needs post restoration, and research opportunities. Whilst we will use the local landscape to frame the conference, we will seek to ensure that much of the material is relevant to partners working in both upland and lowland habitats.
Further announcements regarding the conference will be available on our website and shared on Twitter @IUCNpeat #PeatConf23.
What to expect
Over 200 delegates at this year's hybrid event. Delegates will be able to join the in-person event in Ely or experience parts of this year's conference via remote attendance (Day 1 only).
Networking opportunities at our evening poster session and meal (Day 1), evening meal (Day 2) and throughout the event.
Visits to locally important peatland sites, experiencing a range of management and restoration techniques first-hand on the conference field trips (Day 2).
Additional optional visits either side of the conference, including a visit to Horsey Wetland site with the Norfolk Broads Authority on Monday 2nd October.
Deep-dives into specific topics during the workshop sessions on Day 3. Topics this year will include:

Paludiculture
Delivery targets and roadmaps
Restoration trajectories
Biodiversity metrics for peatlands
Historic environment and paleoecology
Water management and regulation
Booking
Full conference tickets have now sold out, but Horsey and Hickling Broad tickets, Day 2, Day 3 and remote access tickets are still available to book here.
Further information
For further information, sponsorship opportunities and other enquiries, please contact info@iucn.org.uk. 

The UK is a global leader in peatland restoration. This is only made possible by the enthusiasm and dedication of hundreds of individuals and organisations, whether paid staff or volunteers, NGOs, government, academic, business or private land managers. We commend the whole peatland community and particularly the partnerships that drive this work, restoring and protecting peatlands for future generations.