The UK Government has signalled a new era for peatlands with a long term commitment to their restoration and protection in today's 25 Year Environment Plan. The IUCN UK Peatland Programme has long highlighted the public services provided by healthy peatlands such as clean drinking water, climate change and flood mitigation, and welcomes the recognition of these from UK Government.
We can no longer ignore the loss of these services through damaged peatlands without huge costs to society now and in the future. Investment in conserving and repairing our peatlands and the people who manage them, as well as halting their destruction through extraction for horticultural peat is the right and most cost-effective way forward. The 25 Year Environment Plan brings good news and reassurance to farmers, conservationists and society as a whole by recognising the important benefits of healthy peatlands.
Clifton Bain, Director of IUCN UK Peatland Programme said:
"We will work closely with Government to ensure that delivery of this plan results in positive outcomes for peatlands, those that manage them and all of us that rely on them. This requires urgent public and private funding now to avoid the costly consequences of damaged peatlands further down the line. The soon to be launched UK Peatland Strategy will help coordinate efforts across the UK and set us as one of the world leaders in the global efforts to save our peatlands."
Dr Rob Stoneman, Chair of IUCN UK Peatland Programme adds:
"A move away from the use of peat in horticulture must run alongside our important work to restore and conserve peatlands, so it is important that the Government remains signed up to phasing out peat use altogether by 2030 as stated in today's 25 Year Environment Plan. Should voluntary measures not prove successful, it will be necessary to look at statutory measures and regulations, which could include a ban on peat or fiscal measures to ensure the use of peat is more expensive than using peat alternatives. Government commitment to consider these measures should progress not have been made by 2020, will be essential."
UK peatlands as well as providing important homes for wildlife, are our largest terrestrial store of carbon helping to mitigate impacts of climate change. Yet, the majority are in some way damaged leading to the release of greenhouse gases and preventing them from acting as a natural filter for drinking water, hence increasing the cost of water treatment for customers. Recognition of the important natural capital assets provided by peatlands and support for those who manage peatlands sustainably, will enable a step-change in efforts to avoid the problems of damaged peatlands.
Peatland restoration has long been practised in England, and across the UK, with large-scale projects working with private land managers to achieve impressive results, such as the restoration of over 20,000 ha (an area equivalent to half of Leeds) to date in Yorkshire by the Yorkshire Peat Partnership, preventing further erosion of peat and consequent release of carbon into the atmosphere. In the Peak District, the transformation of large swathes of moon-like bare peat landscapes to lush peatland vegetation by the Moors for the Future Partnership, slows the flow of rainwater off the hills and into heavily populated river catchments. In the south west, the Exmoor Mires Partnership who, with South West Water, are restoring areas of peatland so that they can reduce the level of silt in the water running off and therefore use less chemicals to produce top quality tap water. In the low-lying peat areas, such as the East Anglia fens, our partners including the Great Fen Project, have been working to restore peatland, whilst work is underway to develop new and novel crops, which protects rather than erodes the peatland soils.
These efforts are highly commendable, but need the wider support of a national vision to secure the long-term sustainable management of peatlands across the country. Happily, the 25 Year Environment Plan provides us with the first necessary steps to ensure this vision is realised.
Read: 25 Year Environment Plan
---
Case Study: Crossing the divide at Saddleworth and Wessenden Moors
Nature knows no boundaries. Birds fly in moorland skies and plants spread across healthy blanket bog no matter who owns them. The beautiful, windswept moors of Saddleworth and Wessenden are divided by a public footpath running north to south that marks a change in land ownership. The A635 road runs east to west from Greenfield to Holmfirth forming another human boundary and a route across the Pennines. Moors for the Future Partnership's conservation work, and funding from Natural England, has brought these parcels of land back together, unifying them into one landscape that is healing from the damage caused many years ago by industrial pollution and wildfires.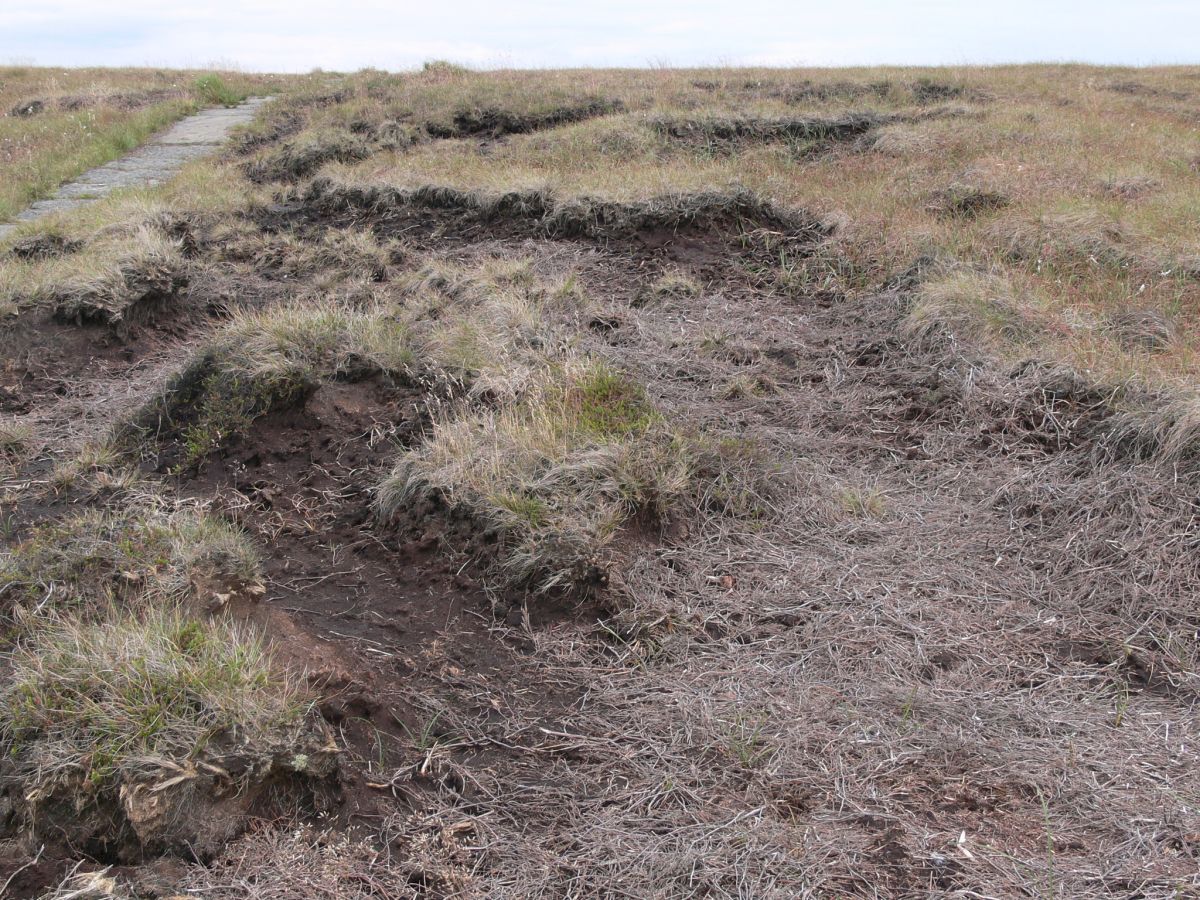 Their work has prevented further erosion of the landscape, stopping peat from washing away and creating a wetter environment where sphagnum moss can thrive. Birds such as curlews and short-eared owls can once again find a home on this wetter, re-vegetated moorland and water flowing down into the surrounding resevoirs is cleaner and clearer needing less treatment before entering the water supply.
Chris Dean, Moors for the Future Partnership's Head of Programme Delivery attended the launch of the 25 Year Environment Plan and said: "Our partners have been working together to restore the landscapes of the Peak District and South Pennines for almost 15 years. We have achieved a lot in this time by putting these landscapes on a road to recovery, but our job is not finished. A long-term approach is essential to ensure that future generations can continue to enjoy these treasured landscapes."
To read the full story of Moors for the Future Partnership's work on Saddleworth and Wessenden Moors download a copy of their Year in Review 2016-17 and their response to the plan.
Photo: Bare peat requiring restoration on Wessenden Moor - Credit Penny Anderson
---
Response from Yorkshire Peat Partnership
Yorkshire Peat Partnership, one of England's largest peatland restoration programmes, has welcomed their inclusion in the newly launched 25 Year Environment Plan from UK Government today. Yorkshire Peat Partnership, managed by Yorkshire Wildlife Trust, has clearly demonstrated the benefits healthy peat bogs provide to society at large – ranging from climate change mitigation, flood risk management to wildlife habitat – and is encouraged by the long-term commitment to their conservation shown in the newly launched plan.
Tim Thom, Peat Programme Manager for Yorkshire Wildlife Trust said:
"Peatlands were once Cinderella habitats, often overlooked despite the multiple benefits they provide us when in a healthy condition. This is gradually changing with growing support from people and Government, which is great to see. But, there is still a long way to go with around 80% of our peat bogs in poor condition. Yorkshire Peat Partnership has made a good start but continued financial support from Government will be needed to match the scale of the challenge to restore and sustainably manage all of Yorkshire's peatlands."
Yorkshire Peat Partnership is no stranger to this work, collaborating with private landowners throughout the Nidderdale AONB, Yorkshire Dales and North York Moors National Parks since 2009 to deliver restoration work across 20,136 ha of peat bog – an area equivalent to half of Leeds. Their work includes blocking drainage ditches and the restoration of natural vegetation by planting cotton-grasses and bog mosses (Sphagnum moss). These techniques help to keep water on the peatland for longer, slowing the flow of rainwater into surrounding heavily populated villages and towns and reducing flood impact. Restored peat bogs filter water reducing drinking water treatment costs and by preventing further loss of peat, also play an important role in mitigating climate change, keeping the UK's largest terrestrial carbon store intact and preventing the release of greenhouse gases into the atmosphere.