As we come to the end of another busy year it only seems right to take stock of what Peatland ACTION has achieved. It seems strange to think that only three years ago it all started...The Green Stimulus Peatland Restoration Project. First things first, changing the name to Peatland ACTION was instantly a hit! In addition to restoring Scotland's peatlands the project aims to enhance peatland biodiversity, their resilience to climate change and to build capacity and interest among land managers to restore peatland habitats.
So what have we achieved so far?
From Shetland to South Scotland we've had over 150 projects working with private land owners, crofters, farmers, estate owners, foresters, non-governmental organisations, and other public bodies. Looking collectively, over 8,500 hectares have started their road to restoration; seeing water levels increasing, bare peat re-profiled, hags re-vegetated and 'living carpets' created. We have also learnt many lessons; not least are the challenges faced when working over winter against the wind, rain and snow. But we overcame them and here's a selection of some of the projects supported by Peatland Action:
Over half the area of Shetland is covered in peat and Cunningsburgh Crofters have been among the first to tackle peatland restoration. With support from the Shetland Amenity Trust and local digger driver, restoration work has involved constructing 460 peat dams, blocking 3kms of ditches and gulley's, as well as re-profiling eroding peat hags and re-vegetating bare peat.
Across the Cairngorms we've seen close partnership working with land managers and specialist peatland contractors to achieve, for the first time in Scotland, the application of a 'living carpet'. This 'living carpet' is made up of heath and grass brash, dry heath and sphagnum mosses, taken from a donor site to an area of bare peat. One year on, the expanse of cotton grass growth and signs of sphagnum re-colonising was exceptional.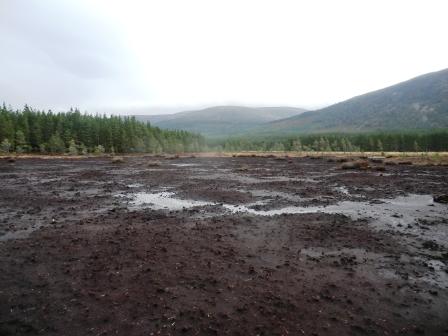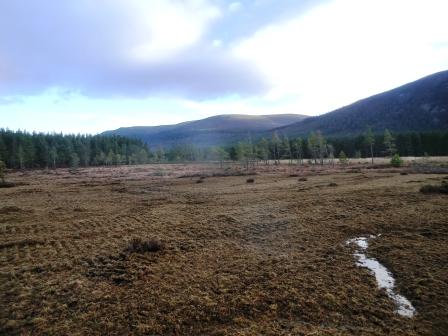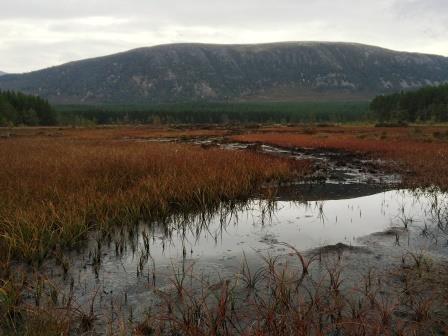 An area of bare peat covered by a 'living carpet' at Invereshie and Inshriach National Nature Reserve in the Cairngorms National Park: before, just after application and one year later
Located at the western edge of the Moorfoot Hills, the Dundreich Plateau SSSI Peatland Restoration Project was completed in February 2016. The total restoration area extended to 61 ha, and involved a combination of peat dams and drain re-profiling techniques to restore the natural hydrology of the blanket bog and prevent open drains from posing a risk to grouse chicks or grazing animals.
Our Project Officers in South Scotland have also been busy organising demonstration events as well as supporting many projects. The latest event covering the Fleet Catchment Survey Project is reported further in this month's newsletter. In the Loch Lomond and Trossachs National Park they are working with land managers through their 'Wild Park 2020' initiative that has a focus on mountain bog restoration. And finally, two further case studies are available focussing on blanket bog restoration in the Flow Country, and another on lowland raised bog restoration at Blawhorn Moss National Nature Reserve in Central Scotland.
What's next?
The project is moving into a new phase. Over the course of the last three years there has been a large amount of data and knowledge gathered that we want to firmly embed into our understanding of peatlands and the very unique role they play in our environment. Now that Scotland's National Peatland Plan has been published there is continued emphasis on reaching our ambitions for Scotland's peatlands. This is being supported through the Scottish Rural Development Programme where £10 million has been set aside purely for peatland management options.
Advisory support and guidance will continue to be available on the Peatland Action webpages and by getting in touch directly through our email address: peatlandaction@snh.gov.uk.
The work that Peatland ACTION has promoted and supported could not have been possible without the enthusiasm and devotion of the project team, our many partners and land managers, who have worked together to restore Scotland's peatlands for the many benefits they provide to both people and nature now and into the future.