If you have decided to undertake a peatland restoration project and would like to become Peatland Code validated, and later verified, the following steps outline the process.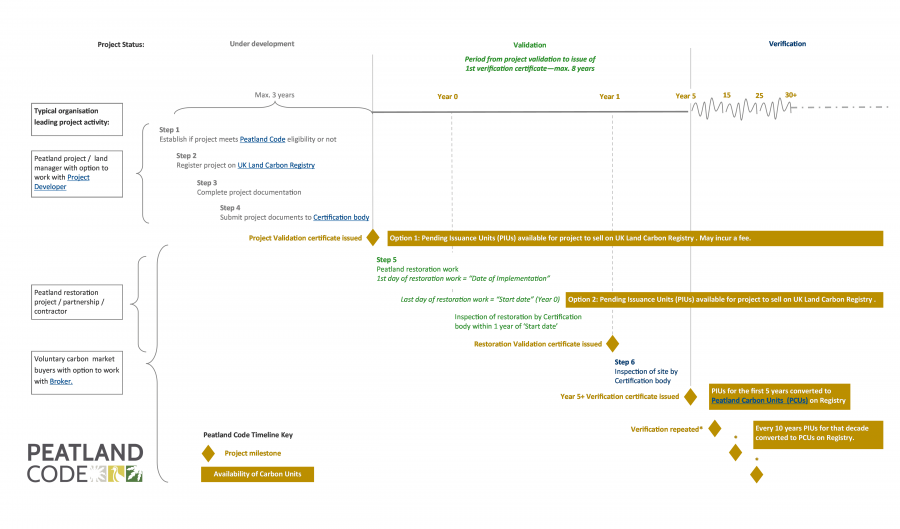 Step 1 
Download the Peatland Code and establish if your project is eligible.  
For a project to be eligible for validation/verification to the Peatland Code (at present) the following basic pre-requisites must be met:
•    Peat soils must be greater than 50cm in depth
•    Peatland type must be blanket or raised bog
•    Peatland condition must be 'Actively Eroding' or 'Drained' (See Field Protocol for definitions)
•    Restoration activities must not include forestry removal
•    Restoration must not be legally or contractually required
•    Project must be able to enter a minimum contract of 30 years
•    Restoration activities must not conflict with any other land management agreements
•    Project must be additional i.e. it must require carbon finance to take place
These eligibility requirements are to be used as a quick indication of eligibility only. Full details can be found within the Peatland Code. 
Step 2
Sign up for a Markit account and register your project
After registration for a Markit account (register here) you can add your project on Markit (please see the User Guide). You can also search the public register. Should you need any guidance, please don't hesitate to contact the IUCN UK Peatland Programme Peatland Code Coordinator via renee.kerkvliet-hermans@iucn.org.uk or email info@iucn.org.uk.

Step 3
Complete a field survey of the project site and complete the required Peatland Code documentation
To demonstrate compliance with the requirements of the Peatland Code a number of actions and forms must be completed. The documents, available to download below, provide all the information required to carry out this step:
•    Field Protocol
•    Project Design Document 
•    Additionality Calculator 
•    Emissions Calculator 
•    Risk Assessment 
Advice on completing this step can be provided by contacting the Peatland Code coordinator.
Step 4
Contact our appointed certification body to carry out your validation
The current certification bodies approved to validate and verify Peatland Code projects is OF&G and Soil Association. Upon application a date to conduct audit of both the project site and the project documentation will be arranged. Amendments to the project plan may be required if determined necessary by the validation/verification body to ensure compliance with the Peatland Code.
Step 5
Secure funding and start/complete restoration activity
A public register of all available Peatland Code projects is available online, allowing potential buyers to search for one that meets their requirements. Alternatively, projects can use the services of a specialist carbon broker to actively search for a buyer on their behalf. A sale can also result from a direct relationship, for example between a land manager/owner and a local business. Projects can sell the climate benefits at any time over the duration of the project, with the majority selling the total upfront once 'validation' of the restoration plan under the Peatland Code has been achieved. By marketing the additional benefits that arise alongside the climate benefits of peatland restoration it may be possible to achieve a greater purchase value. 
Contact the IUCN UK Peatland Programme team for more information on marketing the climate and associated benefits of a Peatland Code project at info@iucn.org.uk
On completion of the restoration activity the verification process will commence.
Step 6
Verification
Following successful validation and completion of the restoration activity a regular schedule of verification audits will be conducted by the validation/verification body. This will ensure the project achieves and maintains the expected condition category change, delivering the expected Greenhouse gas benefit over its duration.