Watch an introduction to the Peatland Code for those wishing to develop a peatland restoration project:
If you have decided to undertake a peatland restoration project and would like to become Peatland Code validated, and later verified, the following steps outline the process.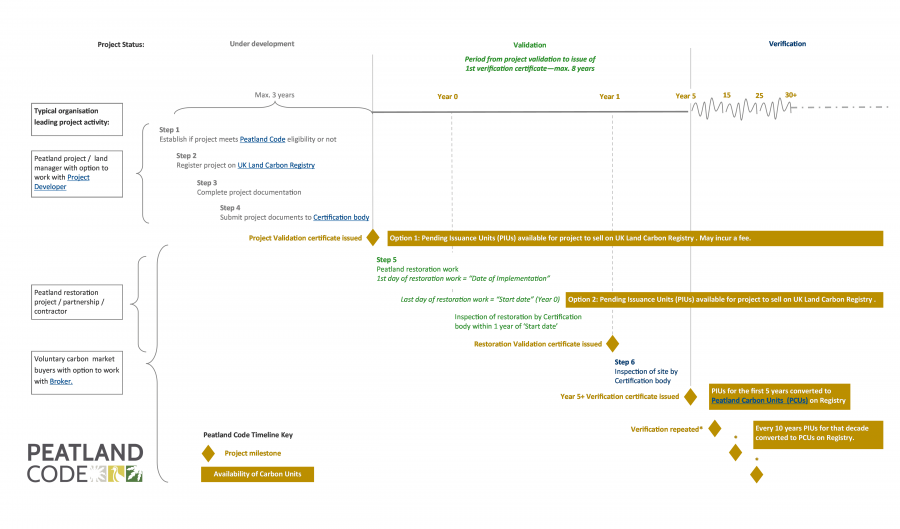 Step 1 - Establish eligibility 
Download the Peatland Code and establish if your project is eligible.  
For a project to be eligible for validation/verification to the Peatland Code (at present) the following basic pre-requisites must be met:

•    Peat soils must be greater than 30cm in depth for bogs with additional requirements, 45cm in fens
•    Peatland type must be blanket, raised bog or fen
•    Peatland condition must be 'Actively Eroding', 'Drained', 'Modified bog', 'Cropland – drained', 'Grassland - intensive'                                                                                     'Grassland - extensive' or 'Modified fen' (See Field Protocol for definitions)
•    Restoration activities must not include forestry removal
•    Restoration must not be legally or contractually required
•    Project must be able to enter a minimum contract of 30 years
•    Restoration activities must not conflict with any other land management agreements
•    Project must be additional i.e. it must require carbon finance to take place

These eligibility requirements are to be used as a quick indication of eligibility only. Full details can be found within the Peatland Code. 
Before embarking on the following steps projects may wish to consult a Project Developer. Please note Project Developers provide a paid service and will charge a fee. 
Step 2 - Register the project on the UK land carbon registry
If working with a Project Developer they will register the project. 
Create a IHS Markit, now a part of S&P Global, account and register the relevant project (please see the User Guide). You can also search the public register. 
For more information on the Registry and associated fees please see the Peatland Code Registry section of this site.

Step 3 - Complete Peatland Code documentation
Complete a field survey of the project site and complete the required Peatland Code documentation
To demonstrate compliance with the requirements of the Peatland Code a number of actions and forms must be completed. The documents, available to download below, provide all the information required to carry out this step:
For all projects see Peatland Code Guidance and Field Protocol 
Fens 
Bogs
Step 4 - Project Plan validation
Contact an appointed validation body to carry out your project validation. This is a paid service, for quotes please contact the validation bodies directly.
The current bodies approved to validate and verify Peatland Code projects are OF&G, Soil Association and SAC Consulting. Upon application a date to conduct audit of both the project site and the project documentation will be arranged. Amendments to the project plan may be required if determined necessary by the validation/verification body to ensure compliance with the Peatland Code. 
Step 5 - Peatland restoration
Secure funding and start/complete restoration activity as per Project Design Document. 
A public register of all available Peatland Code projects is available online, allowing potential buyers to search for one that meets their requirements. Alternatively, projects can use the services of a specialist carbon broker to actively search for a buyer on their behalf. A sale can also result from a direct relationship, for example between a land manager/owner and a local business. Projects can sell the climate benefits at any time. By marketing the additional benefits that arise alongside the climate benefits of peatland restoration it may be possible to achieve a greater purchase value. 
Step 6 - Restoration validation
Within one year of finishing the restoration activities detailed in the Project Design Document the Project must arrange an independent Validation / Verification body to assess the restoration work on site. This validation of the restoration activity will check if the project has delivered the planned restoration work to a good standard and adjust the expected emission reductions if necessary. A 'Restoration Validation' certificate is awarded stating the amount of expected emission reductions and the corresponding number of Pending Issuance Units (PIUs). If Pending Issuance Units were issued before restoration commenced these can be adjusted according to the Restoration Validation certificate. 
Step 7 - Verification
Following successful validation and completion of the restoration activity a regular schedule of verification audits will be conducted by the validation/verification body. This will ensure the project achieves and maintains the expected condition category change, delivering the expected greenhouse gas benefit over its duration. The project must submit a Project Progress Report to the verification body.