Emma Hinchliffe (formerly Goodyer) - Director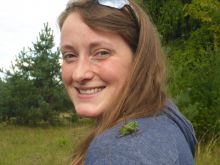 Peatland ecosystems have been a major focus for Emma since 2009 when she studied for a PhD, during which she investigated the drivers of community structure of a group of green algae (desmids) in intact and restored blanket bog habitats. She then went on to work as a wetland ecologist, predominantly in Scotland, for Scotland's environmental regulator (SEPA). During her time with SEPA, Emma advised on the environmental impacts of developments on wetlands, as well as drafting policy and guidance to support wetland protection.
Emma joined the IUCN UK PP in 2015 and is enjoying being part of the broad and applied nature of the work that the Programme delivers. Her main focus is steering the day-to-day running and work plan whilst maintaining an oversight of all activity across the UK peatland community. 

Clifton Bain - Programme Advisor
Clifton Bain is the Programme Advisor of the IUCN UK Peatland Programme, based in Edinburgh, which is raising awareness of the multiple benefits of peatlands.
Clifton is a Zoology graduate of Aberdeen University with over 25 years' experience in wildlife conservation having worked mainly for the RSPB on biodiversity, climate change and forestry policy. As a keen hillwalker Clifton has also published books on visiting ancient woodlands as well as peatlands.
Jane Akerman - Programme Manager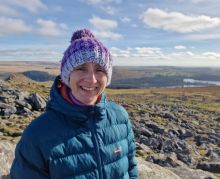 Having grown up in a city on the edge of Dartmoor, Jane has a strong connection to peatlands and the restorative power of nature. After completing an MSc in Biological Diversity in 2007, she went on to work for various environmental charities in practical conservation, before joining the University of Plymouth in a technical support role, specialising in ecology and entomology.  During her time at the university, Jane collaborated with multiple organisations in delivering environmental research and community and stakeholder engagement through outreach, training programmes and work-based placements.
Jane provides support to the Director and wider team in delivering the UK Peatland Strategy, administration of the Programme and development of resources, communications and strong partnerships.
Renée Kerkvliet-Hermans - Peatland Code Co-ordinator
From 2012 Renée has had a strong focus on peatland restoration, first during her PhD at Stirling University where she worked on the impact of forest-to-bog restoration on greenhouse gas fluxes. After her PhD she worked on a policy review for ClimateXChange: "Climate benefits of forest-to-bog restoration on deep peat", in which she brought together data from different studies to come to a complete carbon budget. Prior to her role at the IUCN UK PP she worked for the Landscapes as Carbon Sinks project at Edinburgh University, where, amongst other things, she has built a good foundation knowledge of carbon markets.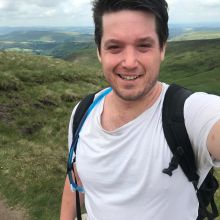 Ed Salter - Peatland Code Officer
Ed began an interest in peatlands after a field trip as part of his MSc at The University of Manchester in 2017, where he studied Environmental Governance. After working at the University in research support and following a professional background in grant writing, he volunteered as a conservation ranger for the National Trust and joined the IUCN PP team in May 2022.
He will be focused on the day to day running of the Peatland Code, such as registering projects under the code.
Garance Wood-Moulin - Peatland Code Development Manager
Garance studied Horticulture Environmental Management at the University of Reading where her interest in peatlands and habitat conservation first began. Following this with an MA in Plant Diversity, she focused on weather climate changes and temperature effects on British species flowering range and distribution.
Garance joins the Peatland Code team from the Soil Association, where she gained experience with accreditation schemes, standards and land use practices.
As Peatland Code Development Manager, Garance will be providing technical input to the team, managing the Peatland Code's accreditation with United Kingdom Accreditation Service (UKAS), as well as focusing on wider ecosystem service quantification within the Peatland Code.
Iain Detrey - Programme Officer
Iain first encountered peatlands as part of an undergraduate field trip to the bogs and fens of North Wales in 2013. This sparked an interest which led him complete an MA in wetland science and conservation at Bangor University. In more recent years he has been completing a PhD in the Shetland isles working with an industrial partner and the Environmental Research Institute UHI to assess the viability of long term peat storage for future restoration at an onshore natural gas refinery. 
Iain has now joined the IUCN UK PP as Programme Officer and will be focused on the creation and updating of policy and scientific briefs.
Richard Lindsay - Senior Research Advisor
Richard Lindsay is Head of Environmental and Conservation Research in the Sustainability Research Institute (SRI), University of East London (UEL).  For 20 years he was Senior Peatland Specialist in the Nature Conservancy Council and subsequently in Scottish Natural Heritage.  During this time he was involved in various high-profile conservation cases, including the battle for the Flow Country in northern Scotland.  On leaving SNH in 1996, Richard joined the University of East London.  For 16 years he was also Chairman of the International Mire Conservation Group (IMCG), the international network of peatland specialists who provide advice about peatland conservation issues.
Mark Reed - Research Lead
Mark Reed is Professor of Rural Entrepreneurship and Director of the Thriving Natural Capital Challenge Centre at Scotland's Rural College (SRUC). He has over 150 publications that have been cited over 18,000 times and has led 18 projects as Principal Investigator worth a total of £3.8M (two worth >£1M) and contributed to a further 27 projects as Co-I, Work Package leader or equivalent, in projects worth over £30M. He is a member of IUCN's international Committee on Ecosystem Management and he led research that contributed to the development of the Peatland Code. Find out more about his work here.