IUCN UK Peatland Programme in collaboration with the IUCN CEM Peatland Ecosystems Specialist Group
and Newcastle University is monitoring progress under Resolution 43, securing the future of
global peatlands, agreed in 2016 at the World Conservation Congress.
At the IUCN World Conservation Congress in Hawaii (September 2016), delegates passed a motion calling for better protection and restoration of the world's peatlands. This motion became adopted as an IUCN Resolution: 043- Securing a future for global peatlands. The motion highlights the potential for catastrophic loss of carbon, biodiversity and harm to water systems unless urgent action was taken to protect, restore and sustainably manage peatlands, which are present in more than 175 countries.
Since the adoption of the Resolution by IUCN there have been two further significant global resolutions on peatlands which underscore the importance IUCN Resolution 043: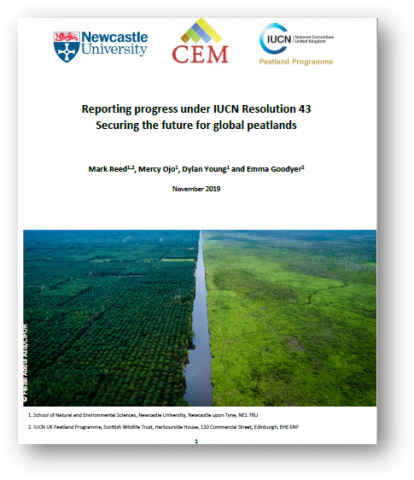 IUCN UK Peatland Programme, alongside Newcastle University, have been undertaking monitoring of the baseline status of peatland strategies globally. Our report to the IUCN World Conservation Congress 2020 (Marseille) is available for download here. 
International Peatland Strategies
Click for more information about IUCN Resolutions and Recommendations.