At the IUCN World Conservation Congress in Hawaii, delegates have passed a motion calling for better protection and restoration of the world's peatlands.
The motion highlighted the potential for catastrophic loss of carbon, biodiversity and harm to water systems unless urgent action was taken to protect, restore and sustainably manage peatlands, which are present in more than 175 countries.
The currently known extent of peatlands occupy 3% of the Earth's land surface area, yet more carbon is stored in this area than all the world's vegetation, including forests. Damaged peatlands release two gigatonnes of carbon to the atmosphere each year, equivalent to the carbon emissions of all air travel. A large proportion of which is coming from drained peatlands in South East Asia, where emissions are increasing at an alarming rate.
Clifton Bain, Director of the IUCN UK Peatland Programme said: "The IUCN motion acknowledges the important role of the UK as a major peatland nation helping lead the way in tackling climate change by rewetting peatlands – a nature-based solution in the tool kit to address this global problem.
"We now need to build on this early momentum and ensure the UK and its devolved administrations have a lasting strategy to repair and look after our peatlands and support the farmers, crofters and other land managers in maintaining the vital peatland benefits for all of society."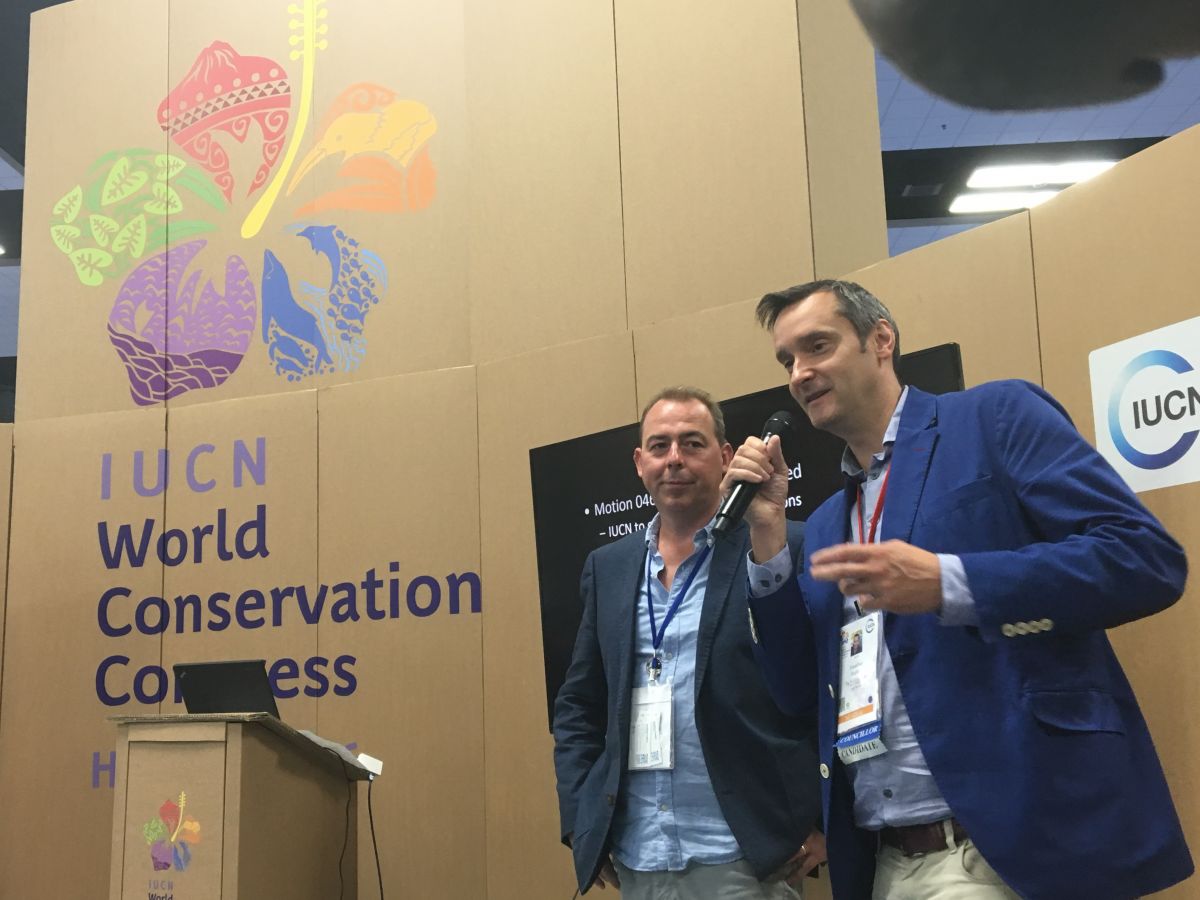 Jonathan Hughes (on the right), Global Councillor for the IUCN and Chair of the IUCN UK Peatland Programme said: "The IUCN is the largest global voice for nature conservation, with representation from Government and civil society. Having this hugely influential group agree that peatlands are a priority for action is great news. The world's leaders have been given a clear steer that we cannot continue with the damage and destruction of our peatlands and that better protection is needed under national and international laws dealing with climate change, water and biodiversity."
Stuart Brooks (on the left), Chair of the IUCN UK National Committee said: "As a UK representative at this important event it was inspiring to see the overwhelming support for peatlands among so many delegates. Peatlands occur on every continent of the world with countries sharing many of the same peatland issues. It is clear from discussion among delegates that we can all benefit from each other's experiences and help build a strong global response to secure our peatlands."
Notable engagement in how global action on peatlands might be secured to address climate change was seen from Indonesia and Hawaii during a workshop hosted by the IUCN UK Peatland Programme and supported by IUCN Climate Change lead, Dr Sandeep Sengupta, at the IUCN World Congress.
The UK, which is amongst the top twelve nations for peatland area, has been challenged by the IUCN UK Peatland Programme to restore 1 million hectares of peatlands by 2020.
---
For full details of the motion passed at the IUCN World Congress please visit: https://portals.iucn.org/congress/motion/046.