The United Kingdom Accreditation Service UKAS is the national accreditation body for the UK appointed by the government, to assess organisations that provide certification, testing, inspection and calibration services.

In May 2022 the United Kingdom Accreditation Service (UKAS) were satisfied that the Peatland Code meets the requirements for conformity assessment schemes required by ISO/IEC 14065 and EA-1/22. UKAS will now look to accredit our validation/verification bodies against the Peatland Code. This phase is expected to complete in 2023. 

In order to maintain integrity and bring increased confidence to buyers of Peatland Code carbon credits our three independent validators, Organic Farmers and Growers (OF&) Soil Association Certification Ltd and SAC Consulting are undergoing UKAS accreditation ISO 14064-3 and 14065. This is to provide assurance that Peatland Code projects and their GHG assertion will be validated and verified by an accredited independent validation/verification body.

The UKAS Pilot:

The validation/verification bodies are working with UKAS to get their accreditation the image below shows an estimated timeline getting UKAS accreditation. There are three scopes that validation/verification bodies can be accredited for:

Scope 1 is the head office assessment where all of the conformity assessments take place such as reviewing staff training, quality systems database and policies  This usually takes place in person, however if the validation/verification body already holds UKAS accreditation for other schemes it can be carried out online.

Scope 2: Is for restoration validation and this is carried out via a witness audit.

Scope 3 Is for year 5 verification which is also carried out as a witness audit.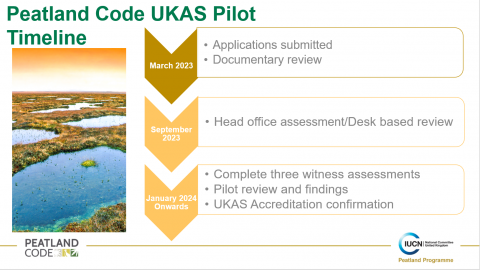 Why does the Peatland Code require UKAS Accreditation ?
We want to ensure that:
Peatland Code projects are validated and verified to the same level of scrutiny from all three validation/verification bodies, that their systems and processes are up to date and that they are best place to issue the GHG option statements and GHG assertions.

Interpretation of the scheme requirements between the validation and verification bodies remains the same.
For any information related to UKAS or Accreditation please contact our Peatland Code Development Manager: Garance Wood-Moulin, GWMoulin@iucn.org.uk