Peatlands: Investing in the Future - Tuesday 1st October

Over 200 delegates (above) joined us for the conference opening address which was kindly provided by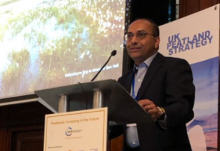 Sandeep Sengupta (right), Global Coordinator of IUCN's Climate Change Portfolio, Global Policy & Programme Group with an introduction to the pivotal role peatlands play in addressing climate change,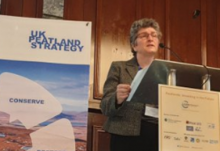 and a welcome from our hosts provided by Helen Anderson (left), Director of Natural Environment Division, Northern Ireland Environment Agency, Department of Agriculture, Environment and Rural Affairs (DAERA). 
Read Conference Forewords by Helen Anderson and Stuart Brooks, Chair of the IUCN UK National Committee & IUCN UK Peatland Programme and Head of Conservation & Policy of National Trust for Scotland. 
An international perspective
This session shared progress from the Global Peatlands Initiative and partners, including monitoring of IUCN Resolution 43. 
UK Strategy progress
This session shared updates from the four countries on delivery of the UK Peatland Strategy. 
Commission of Inquiry update
A set of four sessions provided an introduction to the Commission of Inquiry process and overview of the key topics under review:
Lowland peatlands & wet agriculture:
Climate change, peatlands and greenhouse gas accounting 
 Peatland funding and finance news: